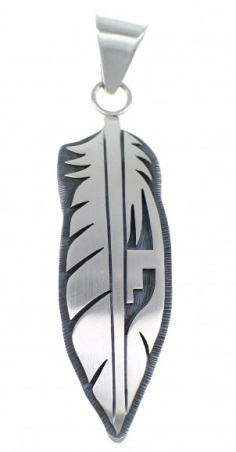 Recently one of my favorite jewelry sites put out a press release for their latest collection of feather jewelry. The amazing part about this collection is the story that inspired it. While the Irish were suffering from the Potato Famine, the Choctaw tribe donated a sum of money to the Irish to help them in their time of need. Having recently been through the Trial of Tears themselves, they knew what severe hunger and loss meant.
The Irish government recently commissioned a great art piece that symbolizes the struggles of the Irish and the Choctaw tribe with a 9-feathered sculpture. The news really touched me to think that people were capable of such a touching gesture, even after facing terrible treatment themselves.
The site that published the press release, NativeAmericanJewelry.com was also inspired by the act and commissioned a collection of great feather jewelry from the Native American artists they represent. I have to say that I was really blown away by the story and what their artisans were able to produce.
The Feather Jewelry Piece I Bought
As for what I chose, I had a look at the monument and saw that it incorporates a sleek and modern look with the smooth metal used to construct it, so I decided to go with a contemporary looking feather piece as well.
The pendant I bought was from Hopi artist George Phillips and has a similar feel and look as the monument built by the Irish nation.
I think my favorite part about the piece is actually the story behind the contributions of the Choctaw nation and how they could witness such sacrifice and still be able to give back in return to people they didn't even know. This is why I love Native American culture; it's all about connectivity and the triumph of the human spirit.
If you want to find feather jewelry of your own you can find them here. As always, thanks for reading!
Feather Jewelry to Honor Past Sacrifices of the Choctaw Tribe