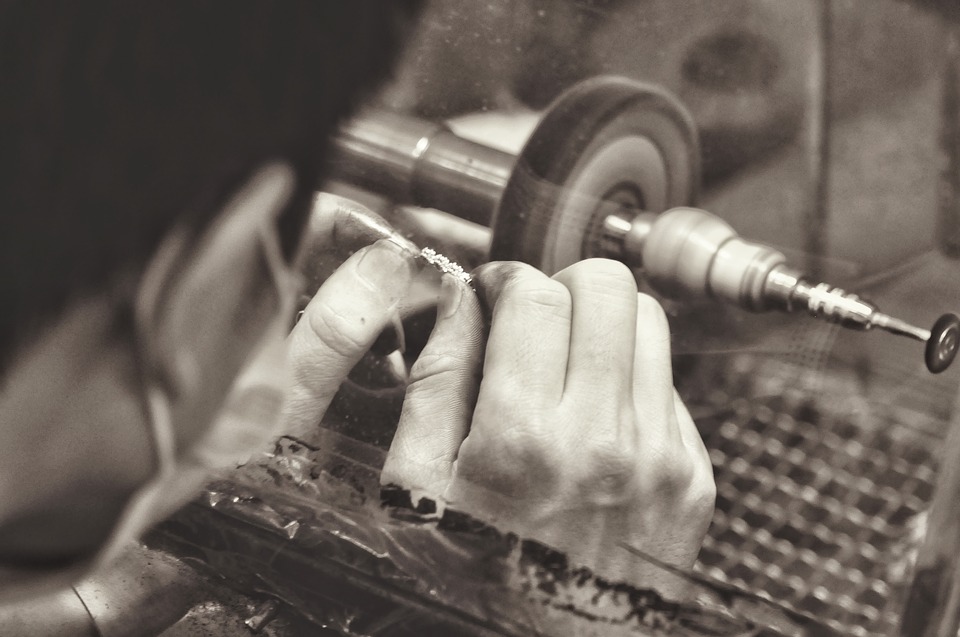 In my experience, all jewelry should adhere to three very specific elements: materials used, artistic technique, and quality. There are pieces that have one or two, but so few have all the elements that make for a truly great piece, this is especially true of Native American Jewelry. In my mind, I like to imagine a jeweler working at the grind, refining a stone or a piece of metal to get that flourish of flowers or the image of a bird in the sterling silver that we all see as the end product from hours of hard work, skill, and attention to detail.
If you think about Native culture, you know that their pieces come from a background of art, history, tradition, and even a little trade for necessities. Conversely, many manufacturers are just out to make a quick sale. While there are some companies that produce outstanding pieces with that price tag, you really want to pay attention to the three elements I've set out so you know the difference between a manufacturer and a true Native American piece.
Since Native American art and jewelry has become more popular over the last few years, stores have started to use Native terms but not the artists and level of skill that go with them so it's important to learn the differences.
Materials
I usually start by looking at the materials that the artist incorporates into their work. With Native American jewelry, this will typically be sterling silver and a traditional stone of the Southwest region, like turquoise. Any cheap materials/metals, even as a small accoutrement to enhance the aesthetic are not worth it in my opinion. Usually, Native artists pride themselves on their silversmith prowess and will not use cheaper metals.
There is an endless amount of information about Native American jewelry. If you're looking into pieces from the Great Plains tribes, for example, you will find a focus on coral and other shell jewelry. It's all a matter of studying the history of the tribe to learn what you should be focusing on. If you're told the tribe who made the piece, you can easily look up what they focus on and the style of that tribe to make sure it's typical of that distinct tribe.
Artistry
The next thing that I look for is the artistry. How well is the artist able to convey symbols and patterns on a piece through the medium they've chosen? Either with metal or stone, is the image crisp, clear, and breathtaking? The more detail in their handmade silver, the more skilled the artist. Just make sure the piece is handmade if it looks too perfect. With a handmade piece, even a quality one, there will be a few uneven lines or bumpy areas, but no two pieces should be exactly the same.
I also recommend researching which tribes go with a certain style or technique for their metal work, material, and their preferred gemstones. Some will use inlay for their silverwork while others will use overlay. There are also some tribes that focus more on the stonecutting and work intricate designs into their jewelry through the use of different colored gems. I've seen beautiful examples of multicolor jewelry that are used to create scenes from the Southwest or capture the iridescence of a butterfly's wings, great artists can do amazing things with these techniques.
Quality
The last element that I look at is the quality, in particular, if the piece was made by hand and who made it. If you're buying jewelry online and the seller claims it was handmade by a Native American artist, they should be able to list the name and the tribe along with it. I thoroughly research the artists as well because they usually have their own website or a social account that verifies their identity. You also want to use the information I mentioned above to make sure their materials and artist style match up with the specific tribe they represent. Very rarely will a member of a certain tribe use the styles and techniques of another with traditional Native Jewelry. Even contemporary artists will use the same techniques of their own tribe, just with a completely new approach.
Conclusion
Take your time when you purchase Native American art or jewelry. There is so much information available online that's it's impossible to be fooled if you really try. There are some really talented artists out there just waiting to spread their work around the country, you just need to find them.
How to Choose Native American Jewelry