A timeless portrayal of human ingenuity, wrist watches are often the treasured gift of any friend, family, or relationship. They symbolize commitment and they're an accessory that will never go out of style.
Now let's talk about the styles available right now. The watches by Marc Jacobs and Swiss leave too much to the imagination, in other words, their boring. I was shopping around for a gift for one of my friends and stumbles across this watch. I was a little irked to see the price (not even gold plated) and thought the only thing to it was the name on the watch face.
A watch is a great gift but where do you get one with a little more pizazz, a little more artistry?
My recent purchase led me to suggest watches from Native American artists, a strange thought but hear me out on this.
Native American watches feature a stunning array of gemstones and symbolism that make them the perfect gift for both men and women.
People looking for watches are often daunted by having the same choices with a different brand name. I honestly couldn't tell the difference between a 90 dollar watch and a 2000 dollar watch.
What I can tell you about is the artistry and gemstones that go into Native American watches. I bought a piece from one of my favorite artists this past year, Effie Calavaza, a pretty rare find in fact.  For almost the same price as the Jacobs piece, I got something made of sterling silver, turquoise, and coral gemstones.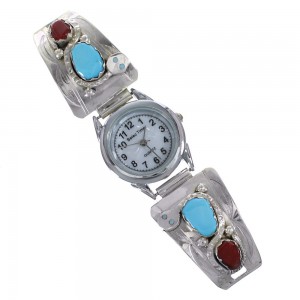 You can actually see the talent that went into making the silver and cutting the stones so they fit perfectly into each setting, flourished with a traditional Native American Snake symbol.  What I don't like is a factory look (I think most can agree). The only thing that makes a Marc Jacobs watch expensive is the name. I don't see talent and I don't see artistry.
If you're looking to shake things up this year and get someone a watch for their birthday, Valentine's Day, Christmas, or whatever, then I recommend something like this. These watches do more than tell time, they tell a story.
I even did a little research after I bought the piece. The snake is actually a positive symbol that represents healing and rebirth, bringing the wearer good luck and fortune.
That's the one thing I love about Native American art, it always has a deeper meaning that makes the piece that much more beautiful.
I'll show you a few places where you can pick up Native American Watches. I personally enjoy SilverTribe and NativeAmericanJewelry.
Thank you so much for reading and I hope you come back for more insight into the world of Native American and Southwest jewelry!