"Bird Effigy" (Pictured Above) by Diego Romero is just one example of the pieces that are to be displayed at the Maloof Foundation exhibit. As the exhibit celebrates the centennial year of the incredible life of the late Sam Maloof, this exhibit provides people with a profound glimpse into the artist's local roots and his work.
The passion of this artist and a few others will be shown at the upcoming exhibition, titled "Neo Native: Toward New Mythologies." The show is scheduled for the Jacobs Education Center, will open this Sunday and run through January 7, 2018.
These pieces, to me, mean great strides toward recognizing great American artists in the contemporary world, which often goes overlooked.
Many look forward to this exhibit as a way for new artists to reflect on their Native American history and traditions. These have been the inspiration for most of what we consider to be "Native Art." But for artists that want to build on the roots of the heritage and create something new, it's been difficult to receive the recognition they deserve. This exhibit represents the culmination of contemporary Native American artists coming out of the woodworks and getting the praise that is long overdue.
The Exhibit will feature more than 40 pieces of art by 11 different artists. Some of the most well-known of the group will include.
Paintings by Navajo Abeyta will also be displayed.
One of Cara Romero's pieces "Water Memory," is a piece that will give you a glimpse into the contemporary Maloof Exhibit.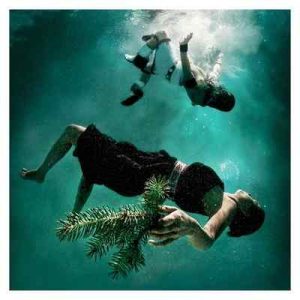 Some reports of the works are saying that the artists are breaking from their known and familiar subjects to address the elephant in the room, known as the Standing Rock protests in North Dakota.
The collection as a whole seems to express an array of tribal histories and artist experiences that simply has not been seen in Native American art on such a large public scale. I'm really excited to go and see it, sometime next spring when I get the chance.
Alfreda Maloof, an artist that I simply adore, had a very deep connection to the Native American community. Teaching art at the Santa Fe Indian Boarding School in New Mexico in the 1930s, her legacy is something I'm happy to see preserved in such a beautiful way.
The exhibition is described as quite eclectic, in terms of mediums and aesthetic. I think it will bring together a great number of paintings, photography, ceramics, glass and mixed media pieces that will display each artist in their own right, showcasing each of their distinct tribal affiliation in the process.
Thank you all for tuning into my humble blog and I hope you keep coming back for more news, fashion, and art.
Contemporary Native American Art in the Maloof Exhibit in Rancho Cucamonga